Wyntercon IX
Devonshire Quarter, Winter Garden, Eastbourne.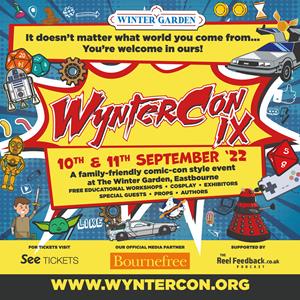 Already Ordered Tickets?
If you would like to add more tickets to your order, please enter your details to group your orders together and only pay one transaction fee.
More information about Wyntercon IX tickets
From DALEKS to DELORIANS, something special is coming to Eastbourne!

With COSPLAY COMPETITIONS offering great prizes, FREE CREATIVE WORKSHOPS, SPECIAL GUESTS, ATTRACTIONS, EXHIBITIONS, GAMING SPACES, a vast variety of STALLHOLDERS and more, Wyntercon promises to offer non-stop entertainment.

This family-friendly comic con style event offers heaps of fun for everyone from first timers to convention veterans; it doesn't matter what world you come from, you're welcome in ours!

Confirmed special guests include actor ANDY BECKWORTH, (Errol in Snatch, Game of Thrones, Pirates of the Caribbean). Actor JOHN CAMPLING, (Death Eater, Harry Potter and the Deathly Hallows, King Regis Final Fantasy XV). Editor, Cartoonist and Writer DAVID LEACH (Titan Comics, Marvel) and scientist, researcher and author DR PAUL IAN CROSS.

With a wide range of free creative workshops for all ages, you can enjoy PYTHON and MINECRAFT coding tutorials, making a giant castle, gaming scenery for WARHAMMER and other franchises, as well as creating your own MAGIC WANDS and SONIC SCREWDRIVERS. Expect heaps of ROLE PLAYING GAMES, as well as lots of ARTS AND CRAFTS for families - it's the perfect way to celebrate Comic Con on the South Coast.

Wyntercon is the only UK Comic Con owned and run by a charity. Our mission is to champion equality and diversity, promote the preservation of the environment and offer workshops providing life skills, communication techniques and creative arts for all.

Complimentary Carer Admission


Disabled guests at Wyntercon IX who purchase a ticket for themselves are entitled to one free carer admission. Please bring valid documentation with you to Wyntercon IX to collect your carers wristband from our admissions desk on arrival.

Disabled guests can obtain one free carer's wristband each day upon arrival when providing proof of disability. For proof of disability please bring ONE of the following forms of documentation:-


a) Entitlement to Disability Living Allowance (DLA)/Personal Independent Payments (PIP)/Armed Forces Independence Payment (AFIP), dated within the last 12 months.
b) A valid Blue Badge (photo ID required).
c) In the case of visual impairment, a registration card, known as the BD8 or a Certificate of Visual Impairment (CVI) (photo ID required).
d) A CredAbility Access Card bearing the "Essential Companions" symbol.


A carer must be 16 years of age or over and capable of assisting the guest who has the disability. The carer is expected to understand the disabled person's condition and assist them in managing it for the duration of the visit. If more than one carer's wristband is required, a letter from a GP or consultant is needed stating the number of carers required.

Free carer wristbands are issued solely at the discretion of the organisers.

Please do not buy a ticket for your carer as this will NOT be refunded.